For more about this international holiday, take a look at this "Simple English" Wikipedia article.  https://simple.wikipedia.org/wiki/International_Women%27s_Day
Below is an excerpt from an article on International Women's Day. It was published on India.com in 2015. The full URL web address is at the bottom of this page.
 UN Human Right 2015 Theme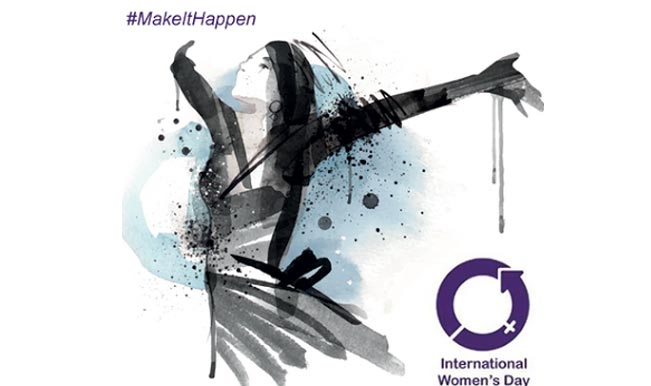 Happy International Women's Day!
The first International Women's Day was celebrated in 1911 on March 19. The day was result of protest by International Ladies Garment Workers Union against long working hours in New York. It was in 1914 that Women's Day was celebrated on March 8 in Germany and the tradition has continued since.
Activists wear purple ribbon on this day. But why purple? Women's Social and Political Union in Great Britain adopted a particular color scheme for International Women's Day. Purple, White and Green tint were recognized as a symbol of women's struggle. Purple color is the new chosen color to celebrate International Women's Day as it symbolizes justice and dignity which relates to women's equality.
 UN Human Right 2015 Theme
The Human Rights of United Nations have designed various themes for Women's Day which creates awareness about their day-to-day struggle. Let's have a look what exactly 2015 Women's Day theme is all about?
2015 International Women's Day theme says, 'Empowering Women – Empowering Humanity: Picture It!' UN theme for International Women's Day 2015 sends across a powerful message where a female has her own right to choose, right to educate, right to earn a livelihood and can fight for her equal status in the society. The International Woman's Day theme also talks about 'Make It Happen' with a hashtag #MakeItHappen. International Women's Day is celebrated as women's demanded right to vote, to hold public office and also raised a voice against employment sex discrimination. Since then celebrating International Women's Day brought a major change in the revolution itself. Men tend to gift the women in their lives including grandmothers, mothers, sister, friends, wife etc. a bunch of flower or any gift as the token of love and appreciation.
United Nations first International agreement on Gender Equality
In 1945 the Charter of United Nations was the first international agreement to confirm the principle of equality between women and men. This was the first major step taken towards a positive change. Soon after that UN started helping women achieve their equal status and fight against all odds.
We at India.com, wish all the women – Happy Women's Day and salute you all for your journey from ordinary to extra-ordinary women.
http://www.india.com/whatever/international-womens-day-2015-all-you-need-to-know-about-the-day-womenhood-is-celebrated-world-over-308472/